STEP+ Weekly Monthly Planner 2018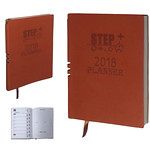 STEP+ Weekly Monthly Planner 2018
"THINK BIG, START SMALL & PLAN FOR SUCCESS" with
Habit, Daily Priority & Review Organizer + Calendar + To Do List
For Student Entrepreneur

SOLD OUT
Concept
Ultimate notebook in 2018 Planning is an important step for you to be the success. A good planner can boost our productivity every day, and every week over a year. It aids you to prioritize and laser-focus on your critical and valuable tasks and events. A good planner should be much more than a stack of papers just for writing your memo and schedules. Our new designed 2018 planner aims to maximize your full potential, including health, mental, finance, networking trackers for you to develop essential routines as most successful people. Step+ planner aids you to plan, track and reflect every baby steps towards your goal.
Features
Design: A5 size, total 120 sheets, hardbound with comfortable PU leather cover and pen holder/slot
Contents: Monthly calendar layout (12 sheets) + Weekly layout (58 sheets) + To do list layout (48 sheets) + Reading plan (1 page) + Productivity Tips (1 page)
Weekly layout element (1): Routine trackers ~ help you develop routines as highly effective people
Weekly layout element (2): Note & Reflective areas ~ for you to flexibly organize ideas and closely review yourself to keep things on track
Weekly layout element (3): Don't Forget & Next Week boxes ~ for you to highlight important tasks and forecast coming tasks
Our new planner will be your best buddy with you. Buy now and bring it with you to design steps and keep momentum towards your goal and success.
TESTIMONIALS
Amazon's Choice for "health planner 2018"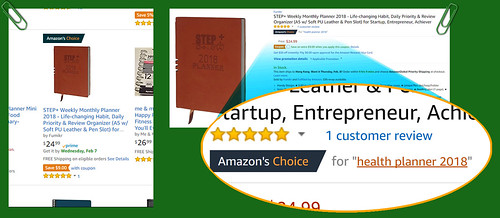 I love this planner. It's EVERYTHING I needed. I wouldn't say I look forward to homework so I can write stuff down… but that would be a lie.
- A Year Three Student
The design is really cool and the planner is great quality. I've been using it for a while and its really helped me with my day to day and long-term stuff. Would recommend and would not look back.
-A Success Dreamer
I was always disorganized. In school, I would do well on the tests and poor on homework because with so many classes it's impossible not to mix stuff up. Missing one or two homework assignments just because I was forgetful brought me down from an A to a B, and even B's to a C's. Then I got a planner last year. Now I'm the organized friend.
-A Fresh Graduate Student

I think it's a wonderful gift for children and students.
Humble and neat outlook with practical design inside… The weekly planning pages are very user-friendly and practical…
-From Amazon Customer Review